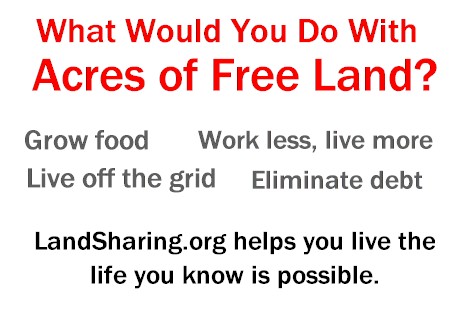 Life is only as complicated as we make it. Food grows from the ground. Water falls from the sky. Earth has ample un-used land. Simple eco-friendly housing is cheap but comfortable. And simple but clever solutions are all we need for most other problems. You know this, which is why you're here.
Use The Map To Find
Free Land (grow ample food for yourself, and share some with land owners)
Growers (people who grow food on your land, and share part of their harvest)
Communities (people looking to combine funds to purchase shared land).
How To Add a Listing (Free Forever)
1. Create an account then Login at the bottom of this page.
2. Add Your Listing: Remember to include an email address for people to contact you. You can use a different email address for each listing if you want. You can edit or delete listings while logged in.
See Yourway.org.au for affordable Eco-Housing, Food Growing & Electricity Generation. You only need simple solutions.